Boise Users and Retailers Blindsided as Feds Move to Ban Kratom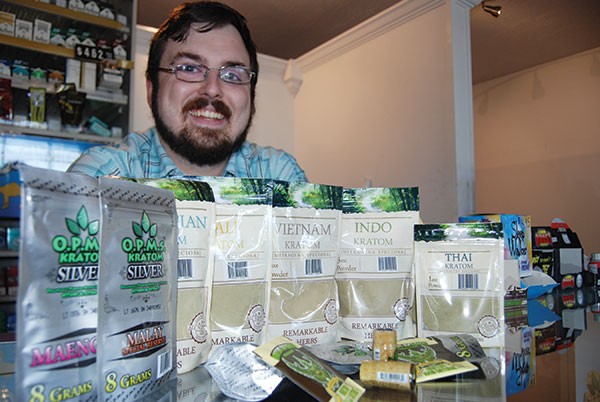 The Lucky Kwik Stop looks like any other convenience store. Tucked in amid the low-slung buildings in the Linda Vista Plaza at the corner of Liberty Street and Fairview Avenue, customers pop into the shop for smokes, a cold drink or any of the other sundry items like lighters, vape products and novelties that fill its shelves. For Marcus Zimmerman, who manages the Kwik Stop with his mother, the impending listing of kratom, set for Friday, Sept. 30, is bad news.
"I was given notice two months ago that kratom was going to be looked at in five years. Then I get this one-month notice that it's going to be scheduled," said LeRoy Cheyney, a traditional Native American healer and owner of the WellBeing Holistic Health Co-Op, located in the same plaza as Lucky Kwik Stop. "This totally blindsided me." Noting its opioid-like effects, Cheyney underscored kratom's use as a way for addicts of heroin or prescription pills to wean themselves without resorting to methadone or similar drugs. "As individuals realized they could get themselves off opiates, it blew up," he said.
Zimmerman agreed that kratom has experienced a surge in popularity—particularly over the past year, as rumors of the ban began circulating among the many websites and online groups that share information and testimonials about kratom.
That the DEA would use 15 deaths over a two-year period, as well as the dubious kratom connection in the Swedish overdoses, to justify its emergency listing doesn't smell right to Dan Landis, a Boise private investigator who has been using kratom to treat his back pain for three years (though he had to overcome an initial skepticism about kratom as "voodoo medicine"). What's worse, he said, is the speed with which the feds are moving—announcing in their letter of intent that because DEA was taking the action as a "temporary scheduling," it would not be considered a "rule" as defined by U.S. code and therefore not subject to public comment:
"[T]he Administrator finds that there is good cause to forgo the notice and comment requirements … as any further delays in the process … would be impracticable and contrary to the public interest in view of the manifest urgency to avoid an imminent hazard to the public safety."
"It sounds suspect, doesn't it?" Landis said.